Disruptive Technolgy: Tantangan dan Kesempatan
Sebagaimana yang umum dirasakan banyak orang, teknologi adalah bagian dari peradaban umat manusia. Perkembangan teknologi sudah menjadi bagian dari cara hidup dan berfikir manusia.
Peneliian dari McKensie Compnay membagi Disruptive Technolgy menjadi 12 bagian. Menurut penelitian dari McKinsey teknologi tsb adalah sbb:
Mobile Internet
Automation of Knowldge Word
Internet of Things
Cloud Computing
Advanced Robotics
Automation of Automobile
Next Generation of Genomics
Energy Storage
3D Printings
Advanced Oil and Gas Exploration.
Renewable Energy
Advanced Materials
Di era Teknologi informasi menuju era pengetahuan saat ini, teknologi telah menjadi suatu komoditas. Bukan saja bagi orang-per orang yang menciptakannya, bahkan bagi suatu negara. Kepemilikan basis teknologi memiliki arti peningkatan bargaining position dalam pergaulan antar bangsa.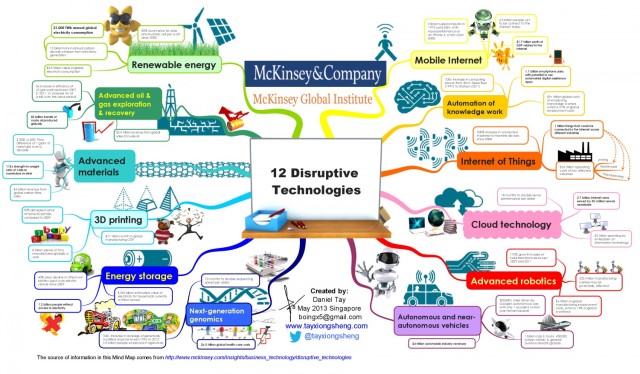 Sumber : McKinsey Global Institute
Dalam penggunaan Tenologi Disruptive maka secara khusus pengguna wajib untuk memahami secara bijak:
Membandingkan keunggulan teknologi yang dapat dikomparasikan.
Menyeimbangkan aspek kemanfaatan dan aspek pengembangannya.
Membangun visi teknologi
Menyusun analisis skenario berbasis sistem dinamis dengan mengaitkan teknologi pada entitas lain yang terpengaruh atau mempengaruhi
Mengimplementasikannya